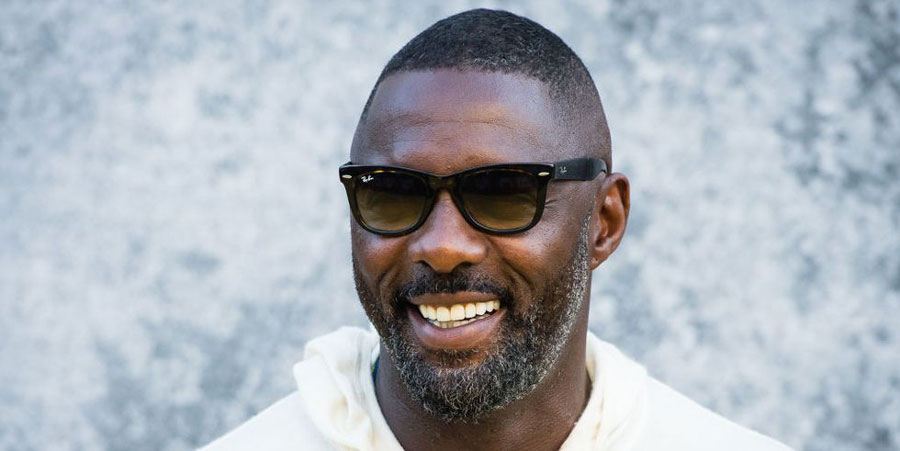 Ieder jaar wordt door People magazine de 'Sexiest Man Alive' verkozen. Voorgaande jaren waren dat mannen als Blake Shelton, David Beckham, Dwayne Johnson, Chris Hemsworth, Adam Levine, Channing Tatum en Bradley Cooper. Presentator Jimmy Fallon maakte in zijn programma The Tonight Show bekend wie volgens het magazine de 'Sexiest Man Alive' is en dit jaar is Idris Elba de gelukkige. De acteur mag zich nu een jaar de meest sexy man ter wereld noemen.
We kennen Idris Elba allemaal als de zelfverzekerde detective in de populaire serie Luther.De acteur heeft iets over zich wat niemand anders heeft: een branie en een zelfverzekerdheid die hij in elke scène tentoonspreidt nog voordat hij ook maar één woord gesproken heeft. Dat speelt natuurlijk mee in de verkiezing, waarbij Idris Elba als sexy winnaar uit de bus komt.
Wij begrijpen People magazine wel, want de acteur is een van de coolste mannen van dit moment. En dus hebben wij hieronder de Idris Elba gids voor je klaargezet, zodat jij er net als Elba onwijs cool uitziet.
LES 1

STIJLVOLLE NONCHALANCE IS NIET HETZELFDE ALS DESINTERESSE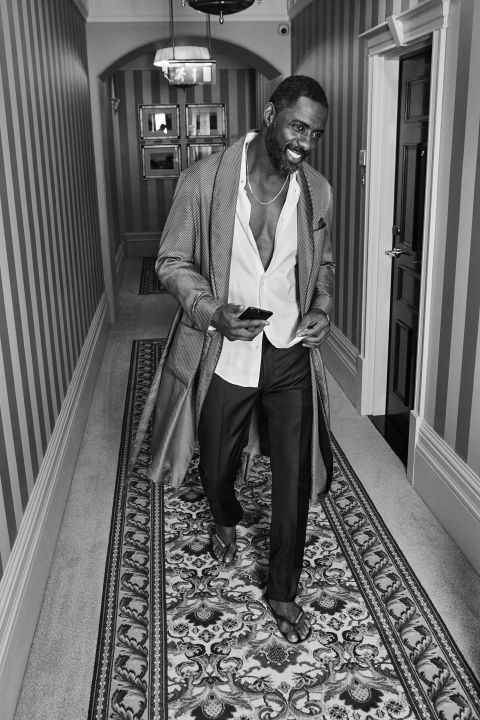 Zelfs als je in een badjas met ongekende swag door je huis loopt, kun je je nog een beetje bekommeren om hoe je eruit ziet. Hier draagt Idris een geweldige broek met nonchalant shirt met een stel sandalen. Nonchalant? Zeker. Maar met gepaste LES 2: DURFinteresse.
– badjas: Paul Stuart
– shirt en broek: van Louis Vuitton

LES 2
DURF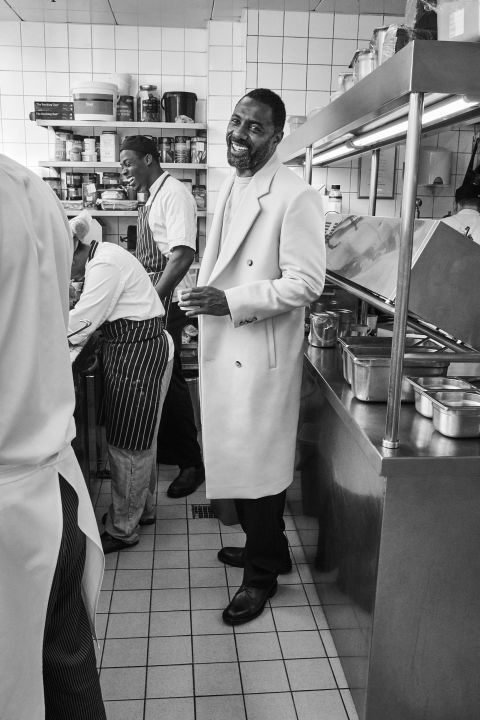 Geen man is ooit cool geworden door louter veilige keuzes te maken. Een lange jas in combinatie met een trui maakt nogal een statement, maar als je het aanpakt met een goede glimlach, kom je al een heel eind.
– jas, T-shirt en broek: Raf Simons
– schoenen: O'Keeffe
– sandalen: Havaianas
LES 2B
DURF MEER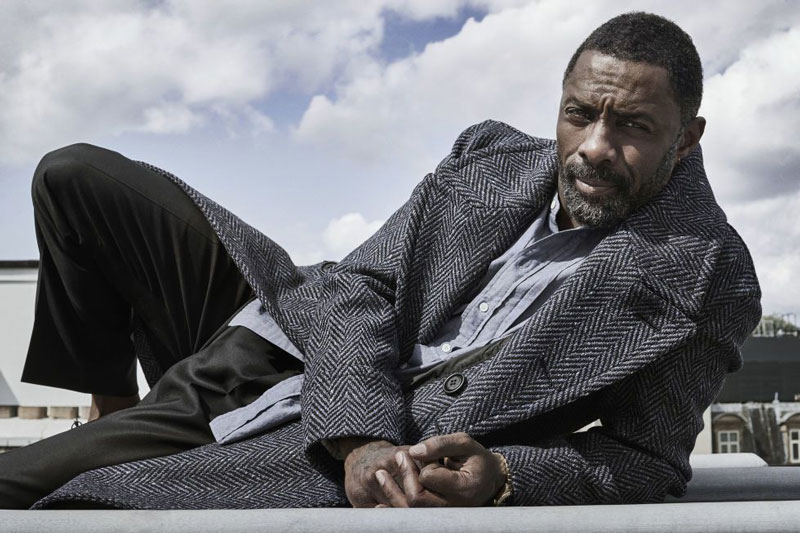 Nonchalant shirt, formele broek, statement jas: veel meer heb je niet nodig.
– jas, shirt en broek: Burberry
LES 3

OMHELS THE NEW FORMAL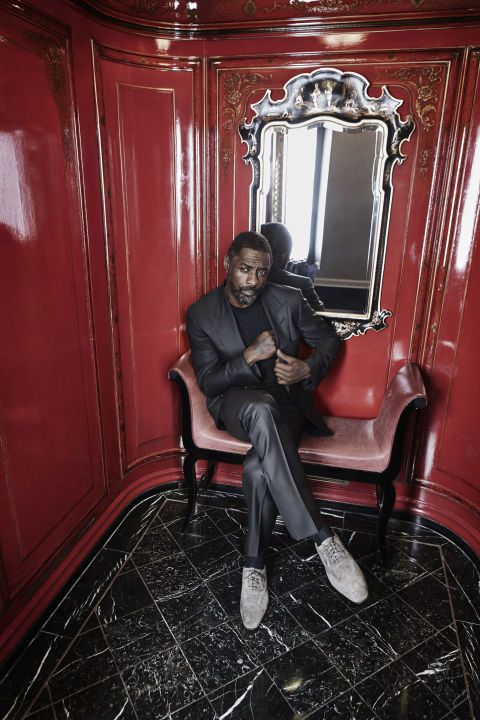 Een grijs pak saai? Nee dus. Omhels een formele stijl met moderne invloeden, zoals een trui, schoenen van grijs suède en natuurlijk een LES 4: KEN JE BASICSgeweldige baard.
– pak en T-shirt: Tom Ford
– schoenen: Christian Louboutin
– sokken: Falke
LES 4

KEN JE BASICS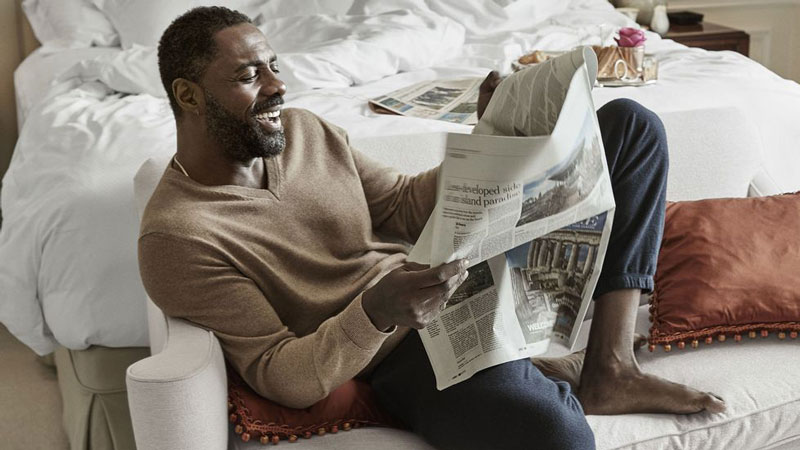 En zorg dat die perfect zitten. Veel meer heeft een man niet nodig op zondagmiddag.
LES 5

GLIMLACH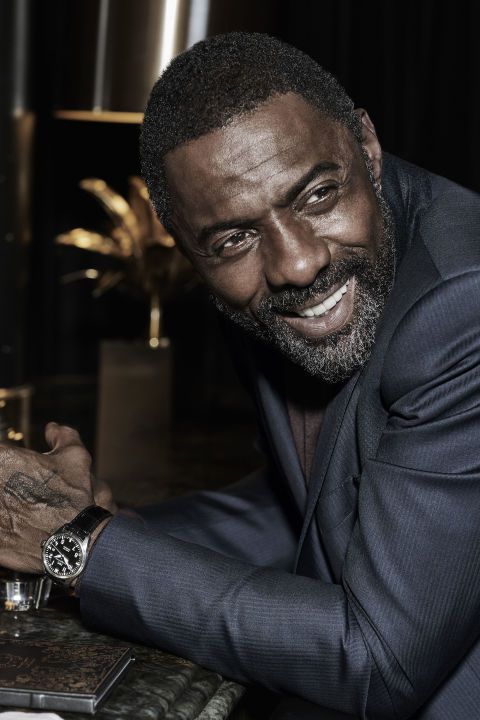 Omdat er niks is dat je nog onweerstaanbaarder maakt.
– pak: Dolce & Gabbana
– horloge: IWC