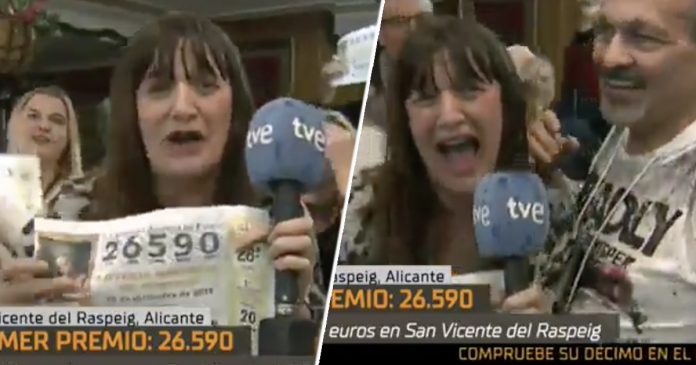 If you've never daydreamed about what you'd do if you won the jackpot, you're either already a very rich individual or you're lying.
There's no two ways about it. If you have had that daydream, I'd put money on the fact quitting your job would be number one on your list of things to do immediately after collecting your winnings.
One woman didn't even wait that long though, announcing she was leaving her job as a reporter live on air when finding out her numbers had come up. There was just one small problem though… she thought she'd won a lot more than she actually had.
You can watch the moment she celebrates a little too early below:
News reporter Natalia Escudero excitedly told her colleagues she was 'not coming to work tomorrow', thinking she had won the €4m (£3.4m) top prize.
Escudero, a journalist for Spain's public broadcaster RTVE, started screaming as she reported on the winning numbers for the country's Christmas Jackpot. 'I'm not going tomorrow, Natalia doesn't work tomorrow,' she told her colleagues as she celebrated.
However, it soon emerged that instead of winning the jackpot, known as El Gordo (The Fat One), Natalia had actually won a fraction of the money – just €5,000. So not quite enough to quit her job.
Which, as I'm sure you can imagine, was more than slightly awkward for all involved. She later apologised to viewers who 'felt cheated' by her reaction, after some people criticised her for giving the impression that she had won the jackpot.
In a series of tweets, Escudero later apologised to her followers, writing (translated to English):
The last [few] months [have been] difficult for me for personal reasons, and for the first time the goddess fortune had smiled at me with a pinch. I have been infected by the joy of the rest of the graces, but I have not lied or manipulated.