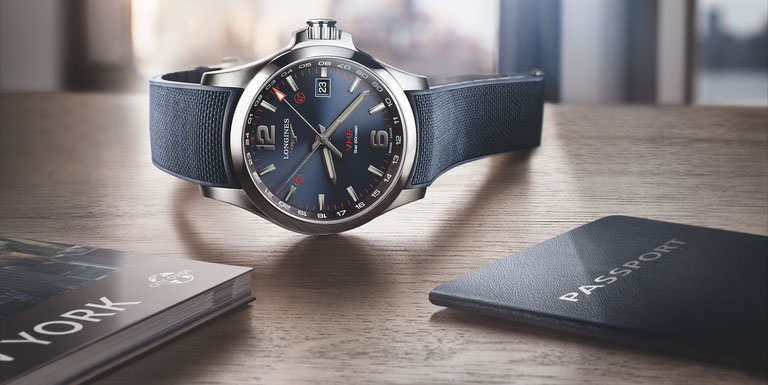 Longines lanceerde afgelopen zondag in Rome zijn nieuwste creatie: de Conquest V.H.P. GMT Flash Setting. Een behoorlijke naam, die ook de nodige uitleg verdient. Van de buitenkant lijkt het namelijk een luxe Zwitsers horloge, maar met het puntje bij de twaalf verraadt Longines' nieuwste creatie zichzelf.
Al houden we dat nu nog heel even geheim. Eerst de Conquest GMT, want een horloge met tweede tijdzone had Longines al eerdere uitgaven van: zoals de Conquest 24 hours. Te herkennen aan de opvallende rode wijzer voor de tweede tijd.
Uit de V.H.P collectie, die staat voor 'Very High Precision', is dit de eerste Conquest GMT. Het nieuwste model kent velen voorgangers met een zeer accuraat quartz-uurwerk, dat per jaar ±5 seconden afwijkt.

Maar dan dit horloge, de Conquest V.H.P. GMT Flash Setting: het is een combinatie van de GMT, met tweede tijdzone én de precisie van de V.H.P. collectie. Klinkt simpel, maar er zit nog veel meer achter. En daarvoor gaan we terug naar het puntje in de twaalf.
Achter dit puntje schuilt namelijk de innovatieve technologie, waarmee Longines meegaat met de tijd en lef toont. Je zou het door de uitstraling van het horloge niet zo snel verwachten, maar het gebruik van dit horloge gaat gepaard met een app.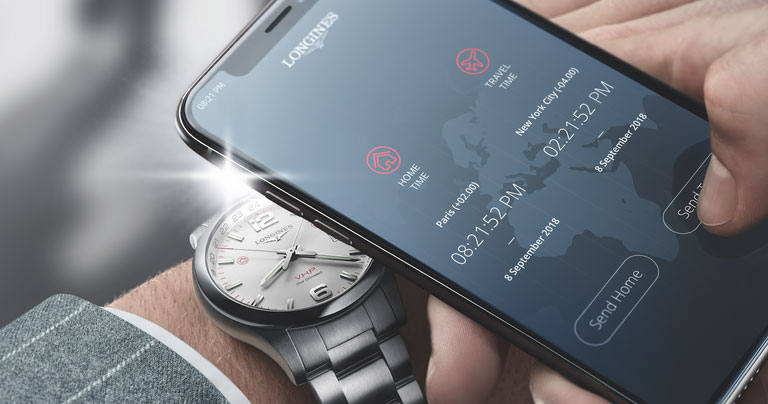 Wil je deze goed doordachte technologie ontdekken, dan download je de Flash Setting app. Hier stel je de home time en travel time in en vervolgens richt je je camera op het horloge. Het puntje in de twaalf verwerkt de informatie die door middel van lichtsequenties via de flits gedeeld wordt. En dit alles zonder Wi-Fi of bluetooth.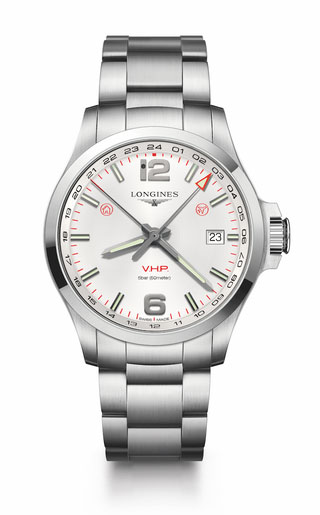 Het horloge is er in twee maten, namelijk met een diameter van 41 en 43 millimeter. Kies uit een stalen kast met een blauwe, carbon, zwarte of verzilverde wijzerplaat, die allen voorzien zijn van de home time en travel time symbolen.
Maak dan nog een keuze uit een stalen, zwarte PVD of zwarte rubberen band voor jouw ideale horloge. Elegant en sportief, precies zoals Longines bedoeld is.
Het horloge is in verschillende varianten verkrijgbaar vanaf oktober en begint bij een bedrag van € 1.160.