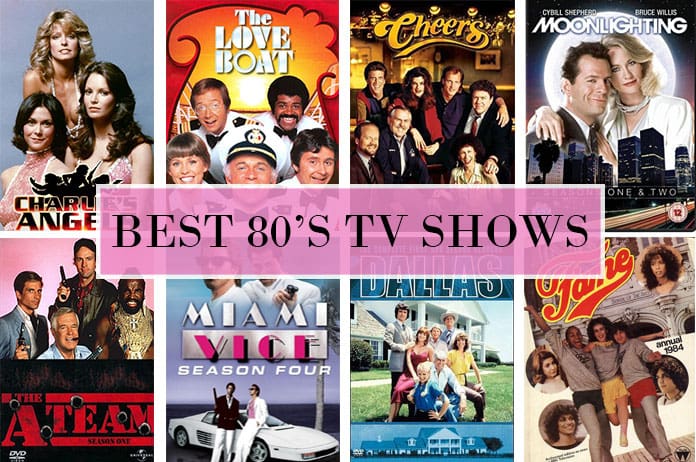 For those whos were born on the 70's, we are certain that these 80's TV Series songs will take to back to so good old times. Although times never stops, but we wanted to take you back to your past and remember all good moments we had when we were watching these memorable series on TV.

The Love Boat
Original Run: 1977-87
Creator: Jeraldine Saunders
Stars: Gavin MacLeod, Bernie Kopell, Fred Grandy, Ted Lange, Lauren Tewes, Jill Whelan, Ted McGinley, Pat Klous
Network: ABC
An hour-long sitcom/drama with a laugh track that featured storylines that sometimes didn't even involve the regular cast, a variety of tones even within the same episode and a penchant for crossing over with other TV shows (from Fantasy Island to Charlie's Angels)—The Love Boat was its own kind of show. If you didn't guest star on The Love Boat in the '80s, you probably didn't have a SAG card. You never really knew what you were going to get each week except that Your Captain Stubing and his crew would make sure that everything worked out in the end.—Josh Jackson

The A-Team
Original Run: 1983-87
Creators: Frank Lupo and Stephen J. Cannell
Stars: George Peppard, Dirk Benedict, Dwight Schultz, Mr. T, Melinda Culea, Marla Heasley, Eddie Velez and Robert Vaughn
Network: NBC
The A-Team was like the live-action adaptation of a Saturday morning cartoon, G.I. Joe for slightly older audiences. In the style of The Incredible Hulk, it's one of those "traveling adventure" shows—each week, the A-Team hits a new locale to help out a new group of people by driving their combat van through a brick wall. Its success is all thanks to its instantly iconic characters—strategist Hannibal, con man "Face," wild man Murdock and Mr. T as B.A. Baracus, the role that has literally defined the man's entire life. Honestly, if Mr. T hadn't landed the role of B.A. Baracus, what would he have done with his life?—Jim Vorel
 Cheers
Original Run: 1982-93
Creator: James Burrows, Glen Charles, Les Charles
Stars: Ted Danson, Shelley Long, Kirstie Alley, Rhea Perlman, Nicholas Colasanto, John Ratzenberger, Woody Harrelson, Kelsey Grammer, George Wendt
Original Network: NBC
The idea of place where everybody knew your name was central to the success of Cheers, even as Coach (Nicholas Colasanto) was replaced by Woody (Woody Harrelson), Diane (Shelley Long) was replaced by Rebecca (Kirstie Alley) and Frasier Crane (Kelsey Grammer) found his own stool at the bar. This was the idea of a "third place," after home and work, where a community could gather to socialize. Tackling sometimes serious issues in an always hilarious manner, the show created a place without class, where Frasier could grab a bar stool across from Norm and Cliff with an equal sense of belonging. Anchoring it all was Sam Malone (Ted Danson), the womanizing former ball player, who grew a little more with each passing season.—Josh Jackson

Charlie's Angels
Original Run: 1976-81
Creator:  Ivan Goff, Ben Roberts
Stars:  Kate Jackson, Farrah Fawcett, Jaclyn Smith |See full cast & crew
Original Network: ABC
Charlie's Angels is an American crime drama producing five seasons and 110 episodes. It follows the crime-fighting adventures of three women working in a private detective agency in Los Angeles, California, and originally starred Kate Jackson, Farrah Fawcett (billed as Farrah Fawcett-Majors), and Jaclyn Smith in the leading roles and John Forsythe providing the voice of their boss, the unseen Charlie Townsend, who directed the "Angels" crime-fighting operations over a speakerphone. There were a few casting changes, after the departure of Fawcett and Jackson, came the additions of Cheryl Ladd, Shelley Hack, and Tanya Roberts.

Dallas
Original Run: 1978-91
Creator: David Jacobs
Stars: Larry Hagman, Barbara Bel Geddes, Patrick Duffy, Linda Gray, Steve Kanaly, Victoria Principal, George Kennedy, Charlene Tilton, Ken Kercheval
Network: CBS
The king of all prime-time soaps, Dallas had the whole nation (and beyond) wondering what would happen next, especially on March 21, 1980, when J.R. Ewing was shot twice outside his office by a mysterious assailant. When the show returned that November, 76 percent of all TV viewers (90 million Americans) were tuned in to find out Who Shot J.R. For comparison's sake, the most-watched episode of Desperate Housewives drew just over 30 million viewers. It was a phenomenon that reached all the way to the Queen of England. Not bad for a melodrama about a Texas oil tycoon.—Josh Jackson
Miami Vice
Original Run: 1984-89
Creator: Anthony Yerkovich
Stars: Don Johnson, Philip Michael Thomas, Saundra Santiago, Michael Talbott, John Diehl, Olivia Brown
Network: NBC
There is an urban legend that Miami Vice was birthed after NBC exec Brandon Tartikoff wrote the phrase "MTV cops" on a napkin and presented it to Hill Street Blues writer Anthony Yerkovich. Yerkovich has since dismissed this story, but you'd be hard-pressed to find a more concise approximation of the show's appeal. Starring Don Johnson and Phillip Michael Thomas as a pair of Miami-based detectives, the show made police work look cooler and sexier than ever before. And while the show's fashion trends and absurd storylines have not aged well, its cultural influence is impossible to deny. Not to mention, the pilot episode, directed by executive producer Michael Mann, remains one of the most compelling, and visually stunning hours in the history of the medium.—Mark Rozeman

Moonlighting
Original Run: 1985-89
Creator: Glenn Gordon Caron
Stars: Cybill Shepherd, Bruce Willis, Allyce Beasley, Curtis Armstrong
Network: ABC
Since the Blue Moon Detective Agency stopped investigating crimes, David Addison (Bruce Willis) and Maddie Hayes (Cybill Shepherd) have become a cautionary tale in the will-they-or-won't-they television trope. But during the heyday of Moonlighting, no TV couple did sexual tension like Willis and Shepherd. When they finally decided to consummate their relationship, they literally burned the house down. While the series had plenty of behind-the-scenes strife (starting with the fact that Shepherd and burgeoning movie star Willis didn't get along), it consistently entertained, pioneered the dramedy genre that is so popular today, and regularly broke the fourth wall in innovative ways.—Amy Amatangelo
Fame
Original Run: 1985-89
Creator:  Alan Parker
Stars:  Eddie Barth, Irene Cara, Lee Curreri…
Network: MGM
Producer David De Silva conceived the premise in 1976, partially inspired by the musical A Chorus Line. He commissioned Gore to write the script, originally titled Hot Lunch, before selling it to Metro-Goldwyn-Mayer (MGM). After he was hired to direct the film, Parker rewrote the script with Gore, aiming for a darker and dramatic tone. The script's subject matter received criticism by the New York Board of Education, which prevented the production from filming in the actual High School of Performing Arts. The film was shot on location in New York City, with principal photography beginning in July 1979 and concluding after 91 days. Parker encountered a difficult filming process, which included conflicts with U.S. labor unions over various aspects of the film's production.