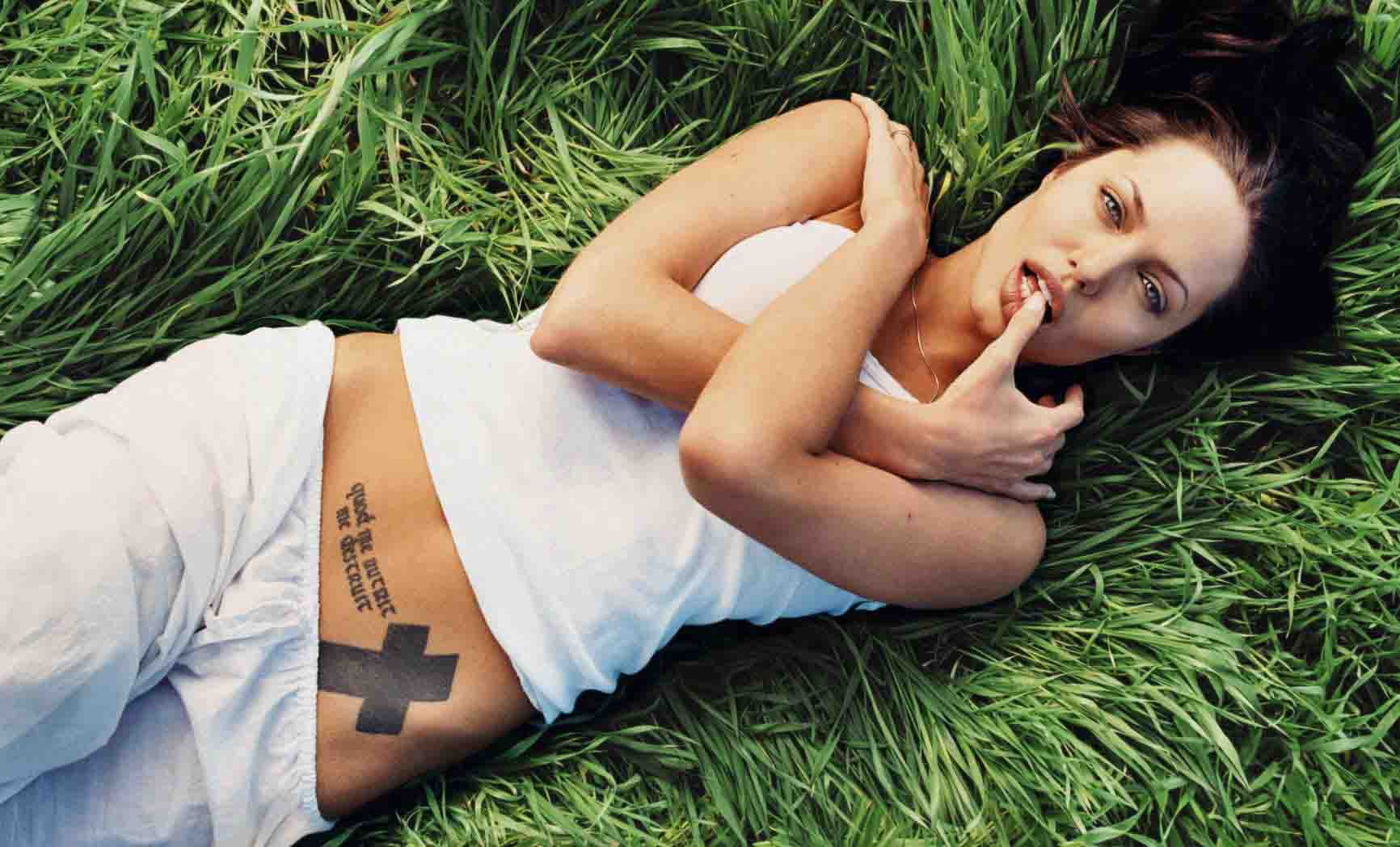 Tattoos are a big part of today's culture, and stars are not exempt. From hidden script to highly visible art, take a peek at some of these Celebrities and Hollywood's ink-and what it all means.
1. Kendall Jenner
Yes, Kendall Jenner got her "meow" lip tattoo inked while drunk — and admitted it wasn't a great idea. She told Ellen DeGeneres, "There's no real meaning behind it, I just wanted to be able to say that I have a tattoo on my face!"
2. Kylie Jenner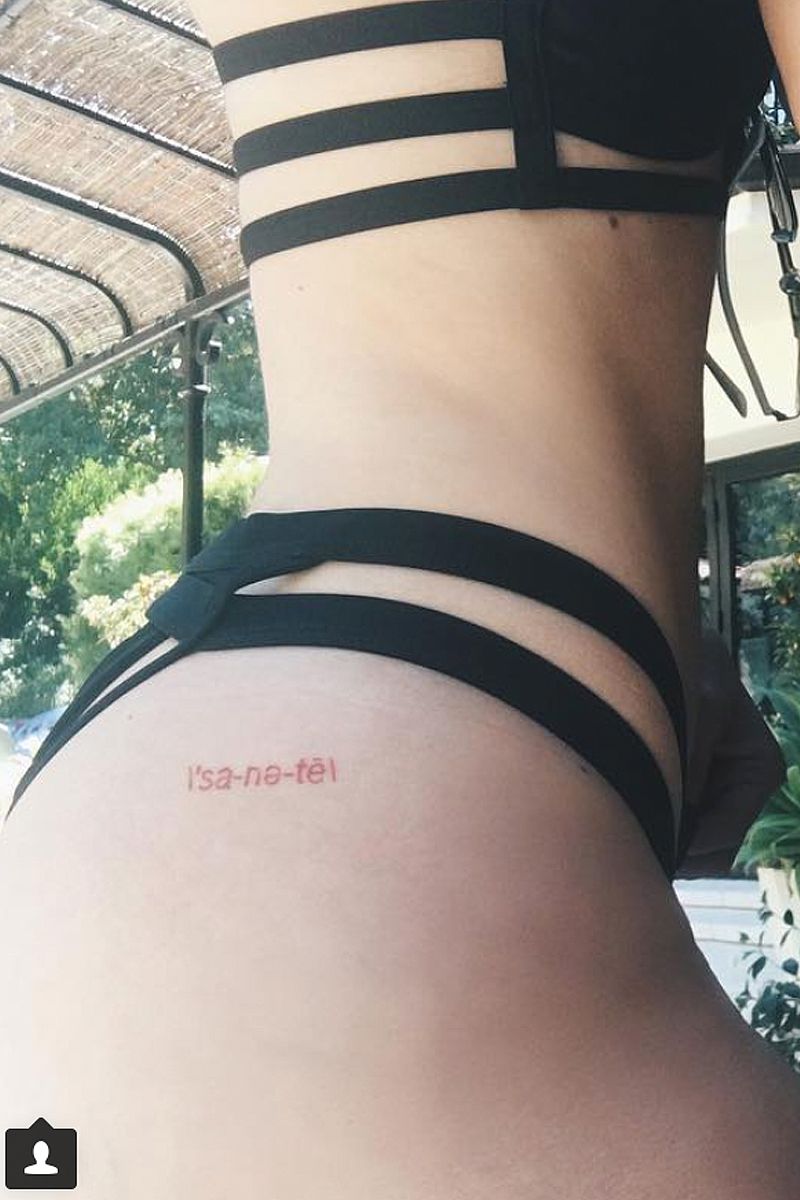 When Kylie Jenner visited celebrity tattoo artist Bang Bang's studio, she gave him a King Kylie tattoo and also got another for herself: the phonetic spelling of "sanity." Like her other tattoos, this one is super small and in her signature muted red shade.
3. Rihanna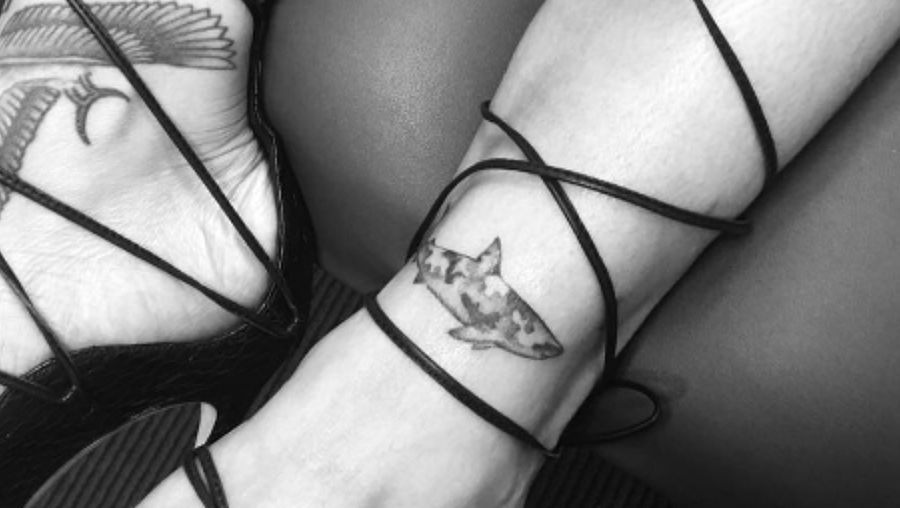 Rihanna's camo shark ink is apparently a token of her and Drake's relationship — and the time when he took her to an aquarium in Toronto where he bought her a stuffed shark. Drake also has the same tattoo on the inside of his arm. What a couple of love sharks.
4. Drake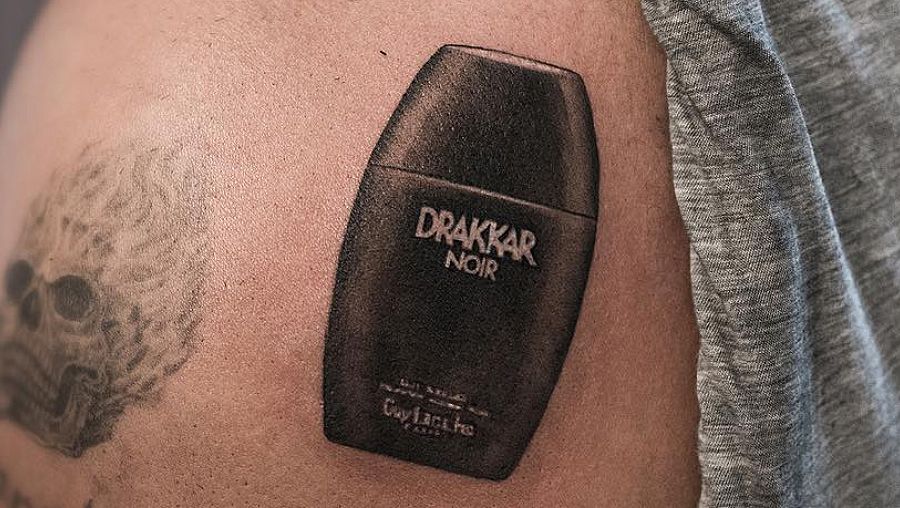 Drake, meanwhile, has a cologne bottle inked on his shoulder — sadly it's not a scratch and sniff piece. It also happens to be a play on his old Twitter handle, @drakkardnoir. Talk about creative branding.
5. Pink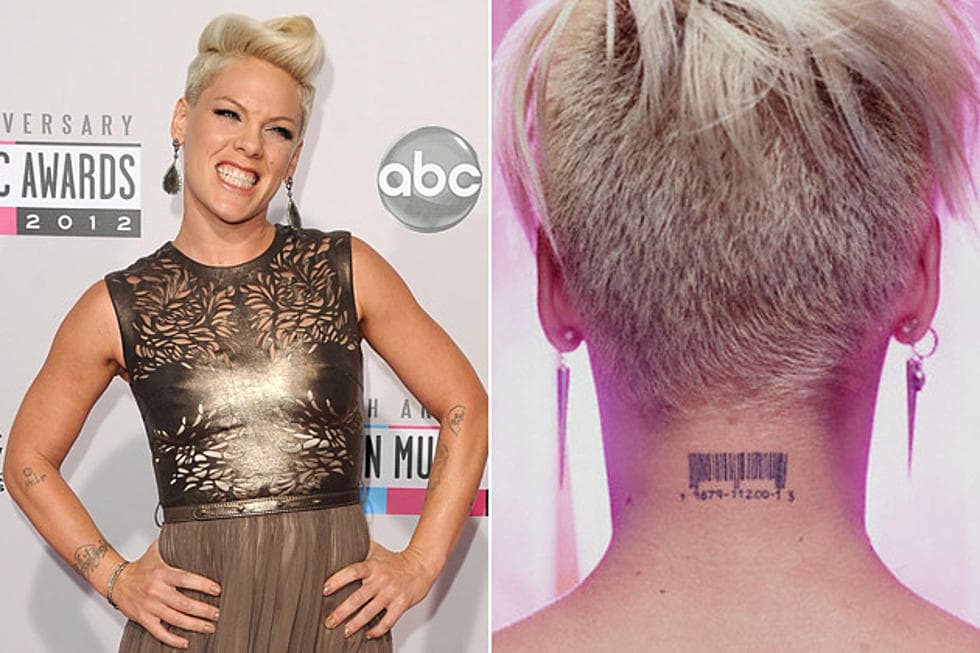 Pink's barcode tattoo on the back of her neck sums up some of the most important numbers in the singer's life. Th identification label is a combination of her birthday, the release date of her Missundaztood album, and lucky number 13.
6. Ed Sheeran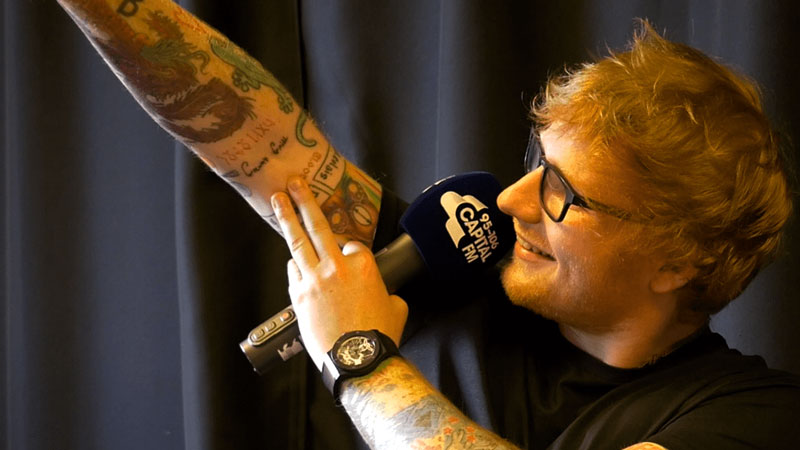 After Saoirse Ronan appeared in Ed Sheeran's "Galway Girl" music video, he decided to have her to tattoo the song title on his arm. That sounds like a great idea in theory, only Ronan is the ultimate prankster and spelled it wrong on purpose.
7. Nicole Richie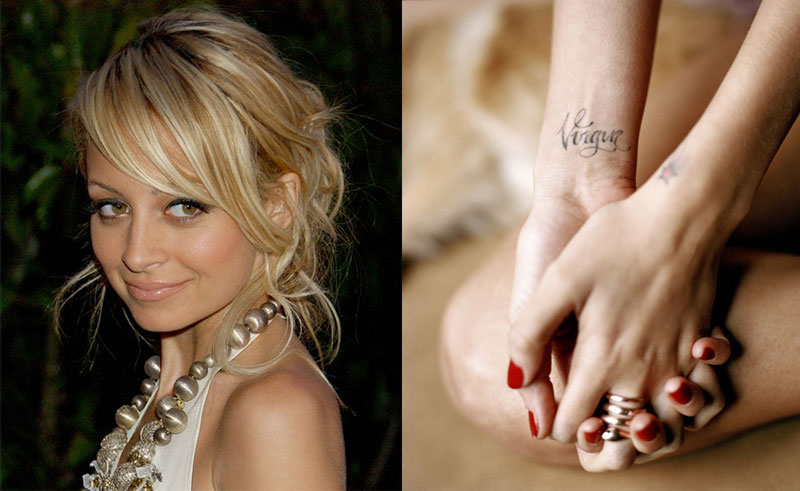 In a stroke of #astroteen genius, Nicole Richie had "virgin" tattooed on her wrist, but to symbolize her star sign thxm — she's a Virgo. It's also a fitting tattoo since Virgos are known for their attention to detail, but sadly, they're also the butt of many jokes. She got the tattoo when she was 16, but has since called it "embarrassing and desperate."
8. Justin Bieber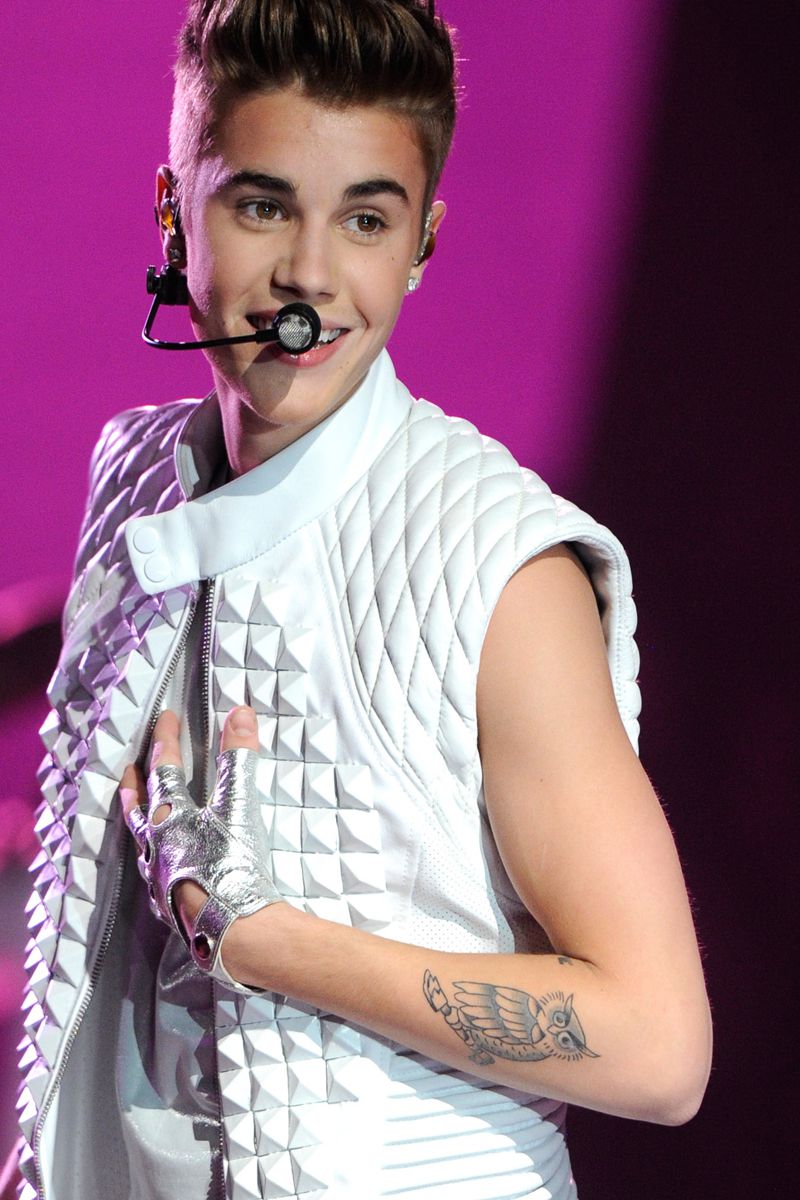 Justin Bieber got this sassy-looking owl tattoo in 2012, after getting five other ones that same year (and, as we all know, many many more since). The black and white owl is right next to his "believe" tattoo and is supposed to represent wisdom. Hey, whatever gets the job done!
9. Johnny Depp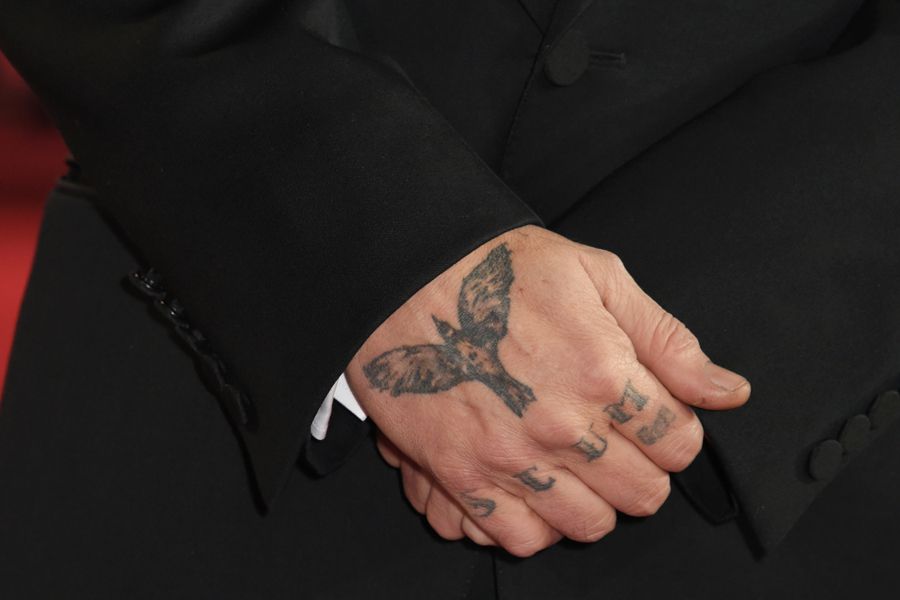 Johnny Depp's knuckle knuckle tattoo used to say "Slim," a nickname for his ex-wife Amber Heard. But then the two divorced after Heard accused him of domestic violence, and Depp changed the tattoo to say "Scum."
He also used to have a tattoo that said "Winona Forever," for his ex- fiancé, Winona Ryder, which hechanged to say "Wino Forever" after they broke up.
10. Chanel Iman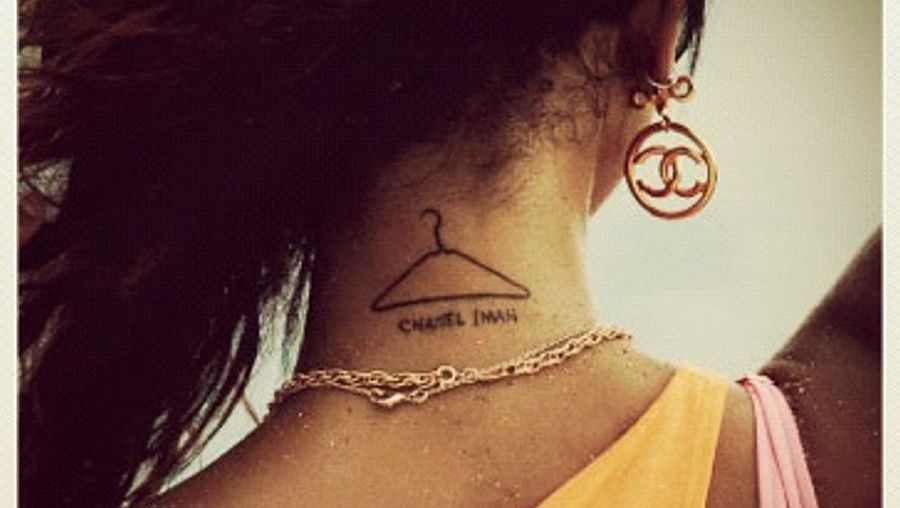 Model Chanel Iman got this tattoo to remind herself — and forgetful designers — that she's a model. "You put clothes on a hanger, and you put clothes on a model," Iman said. "It represents being a model." Clever.
11. Chris Brown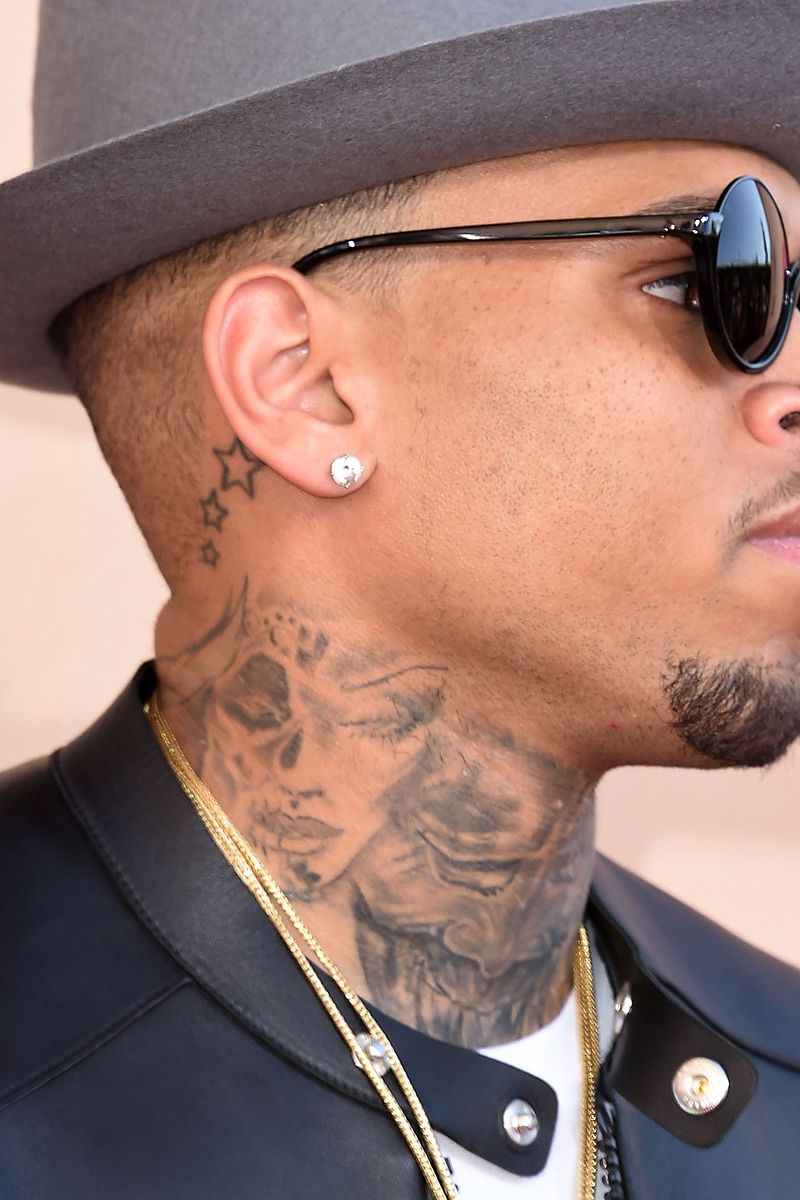 Four years after pleading guilty to assaulting his then-girlfriend Rihanna, Chris Brown added a tattoo that many have said resembles a battered, bruised woman on his neck to his body art collection. Which is, for all sorts of reasons, in very poor taste.
Following much criticism, Brown's publicist denied the tattoo is about Rihanna — instead, Brown was apparently inspired by a M.A.C. Cosmetics makeup design that's supposed to look like a skull from the Mexican Day of the Dead celebration.
12. Miley Cyrus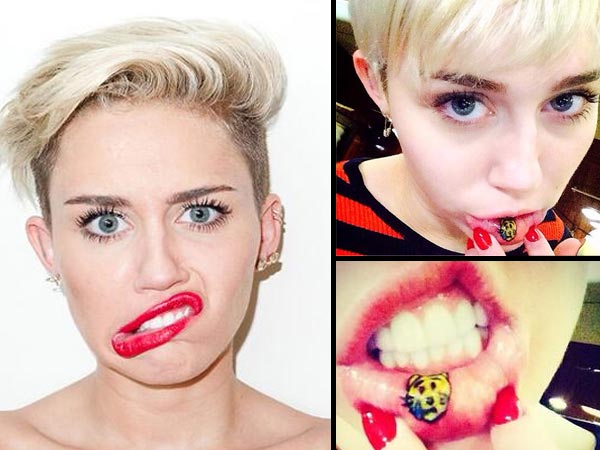 Miley Cryus is just as expressive and animated as an emoji, so it's only fitting that she has one tattooed on her lip. She got this one during her The Flaming Lips phase.
13. Amanda Seyfried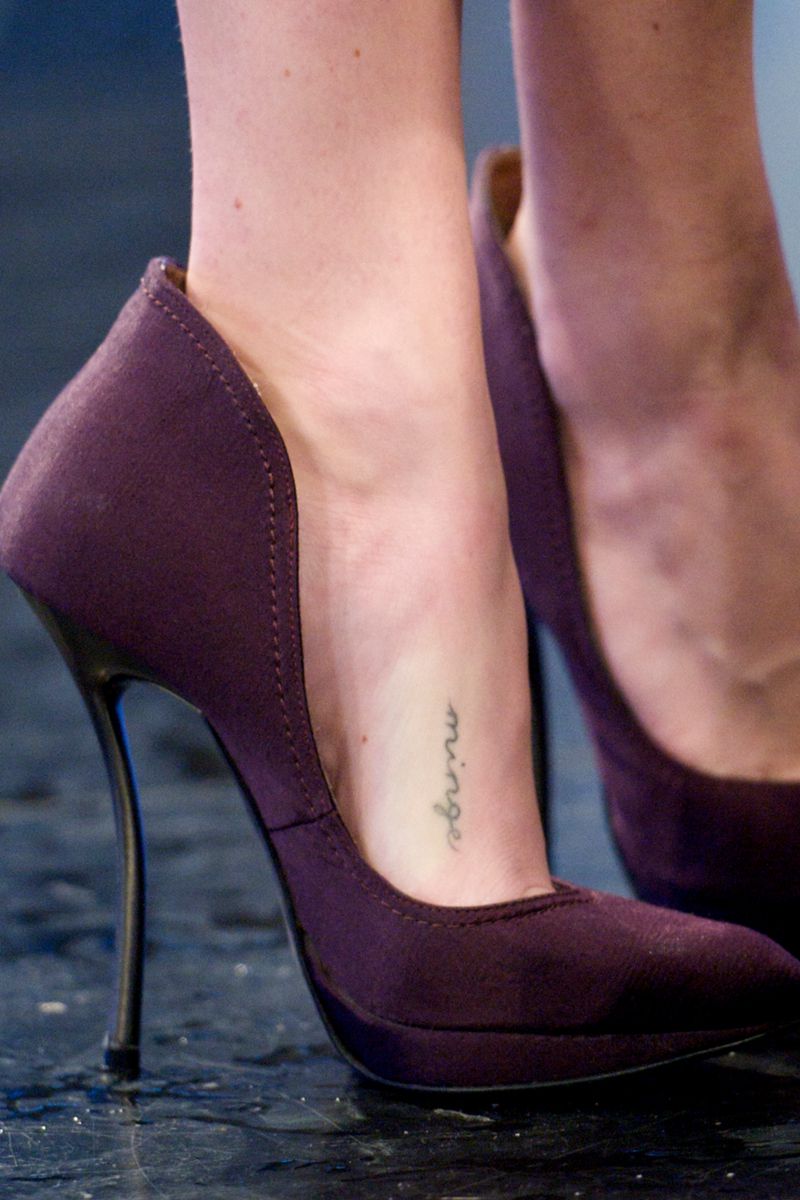 Amanda Seyfried had "minge" tattooed on her foot after filming Mamma Mia! — it's a word her co-star Colin Firth used to say the all the time on set, apparently. In case you don't know, minge is another word for a woman's pubic area. So that makes the foot the most logical place for it… right?
14. Emma Watson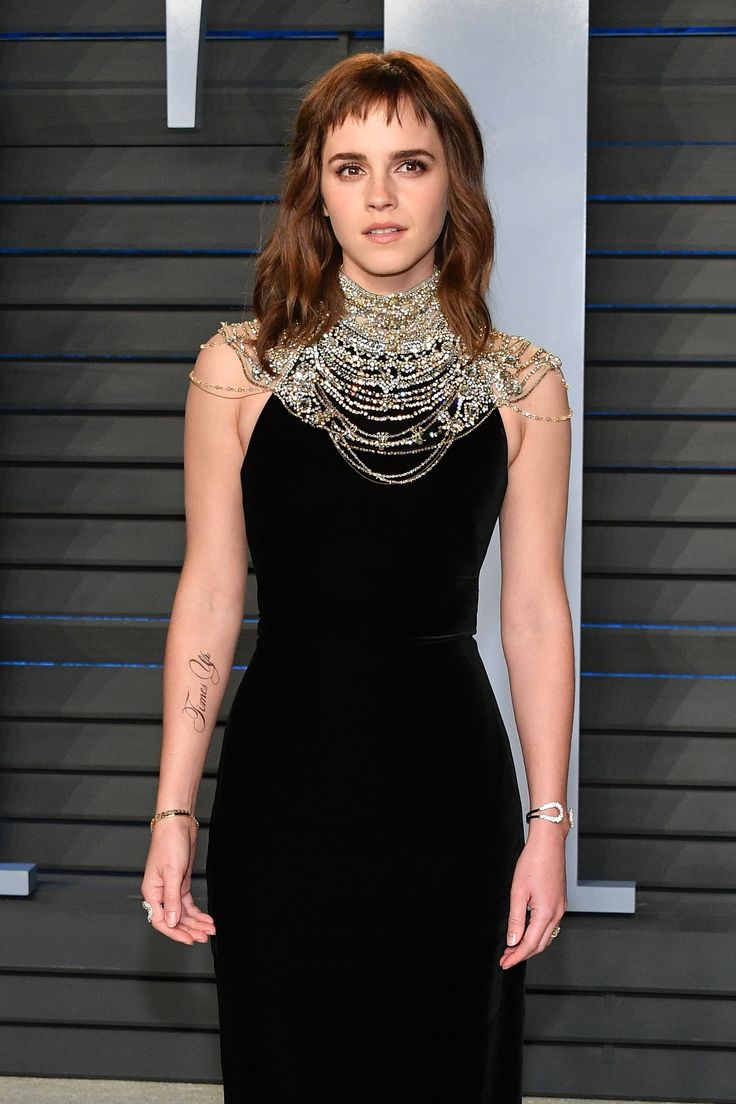 Emma Watson was spotted with a cursive tattoo in honor of the #TimesUp movement while attending the Vanity Fair Oscars party. Though Watson's ode to #TimesUp may only be temporary (probably a good thing since it had a small typo thanks to a missing apostrophe), women in Hollywood are hoping for permanent results.
15. Miley Cyrus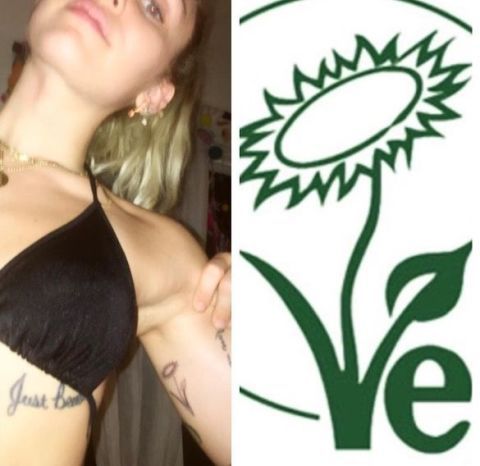 Miley Cyrus posted an Instagram of her new tattoo and explained its meaning in the caption: "Vegan for life! ?."
16. Ariana Grande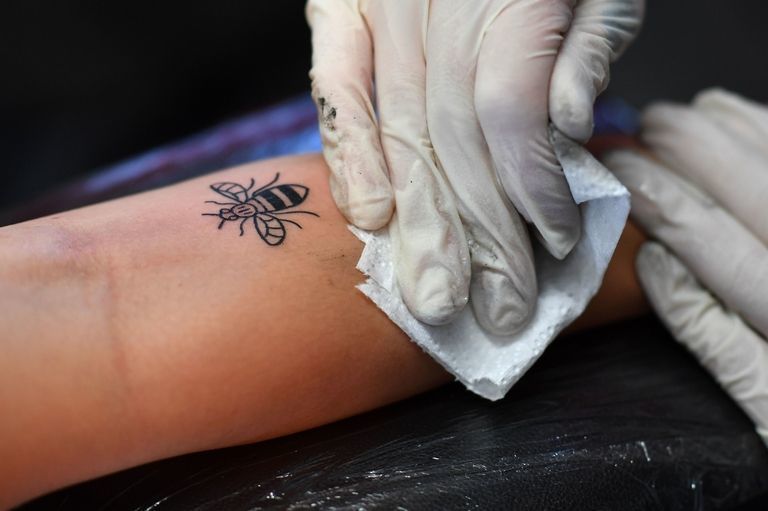 According to the Sun, Grande and members of her Dangerous Woman tour were tattooed with bees backstage at the Manchester One Love show Sunday. A symbol of the city's industrial heritage, the insect refers to Manchester's textile mills in the 1800s, described as "hives of activity." Citizens have been lining up for bee tattoos after the May 22 bombing.
17. Demi Lovato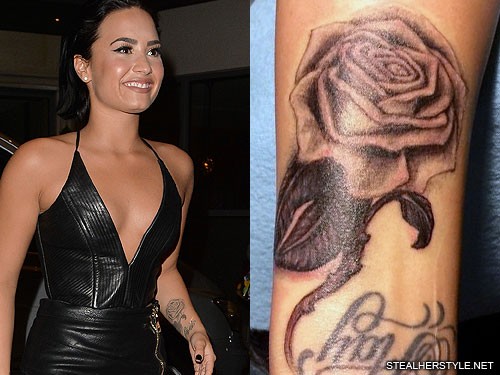 After attending the Time 100 gala Tuesday, she had a massive lion's head inked onto her left hand. Maybe it was a tribute to the essay Ariana Huffington wrote, in which she praised Lovato's "courage, honesty, and willingness to use her own experiences to help others?" Hmm.
18. Lady Gaga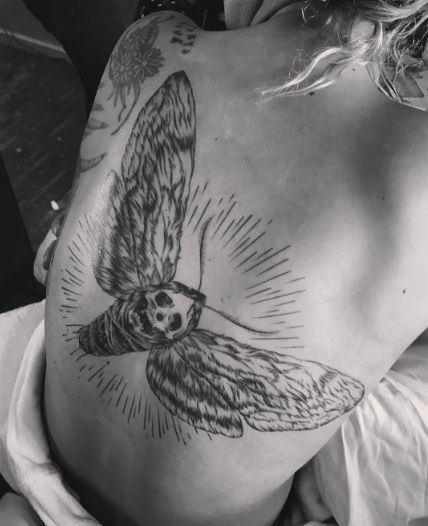 Lady Gaga kicked off Grammy night by getting a giant tattoo of a moth with a skull for a face. The caption? "The Moth & Metallica." (Note: she's playing with Metallica, so this makes total sense. Sort of.)
19. Kesha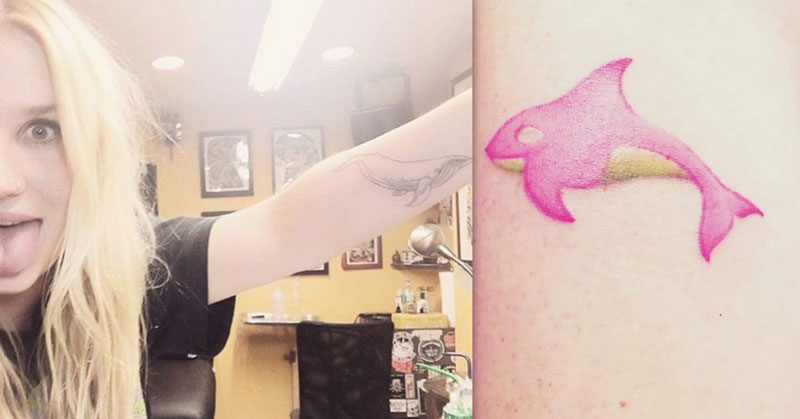 "Psychedelic whales are slowly covering my entire body…," the singer captioned a photo of her new ink. She's already got a friendly narwhal tattoo, so it's only a matter of time before her menagerie of sea creatures expands again.
20. Carey Mulligan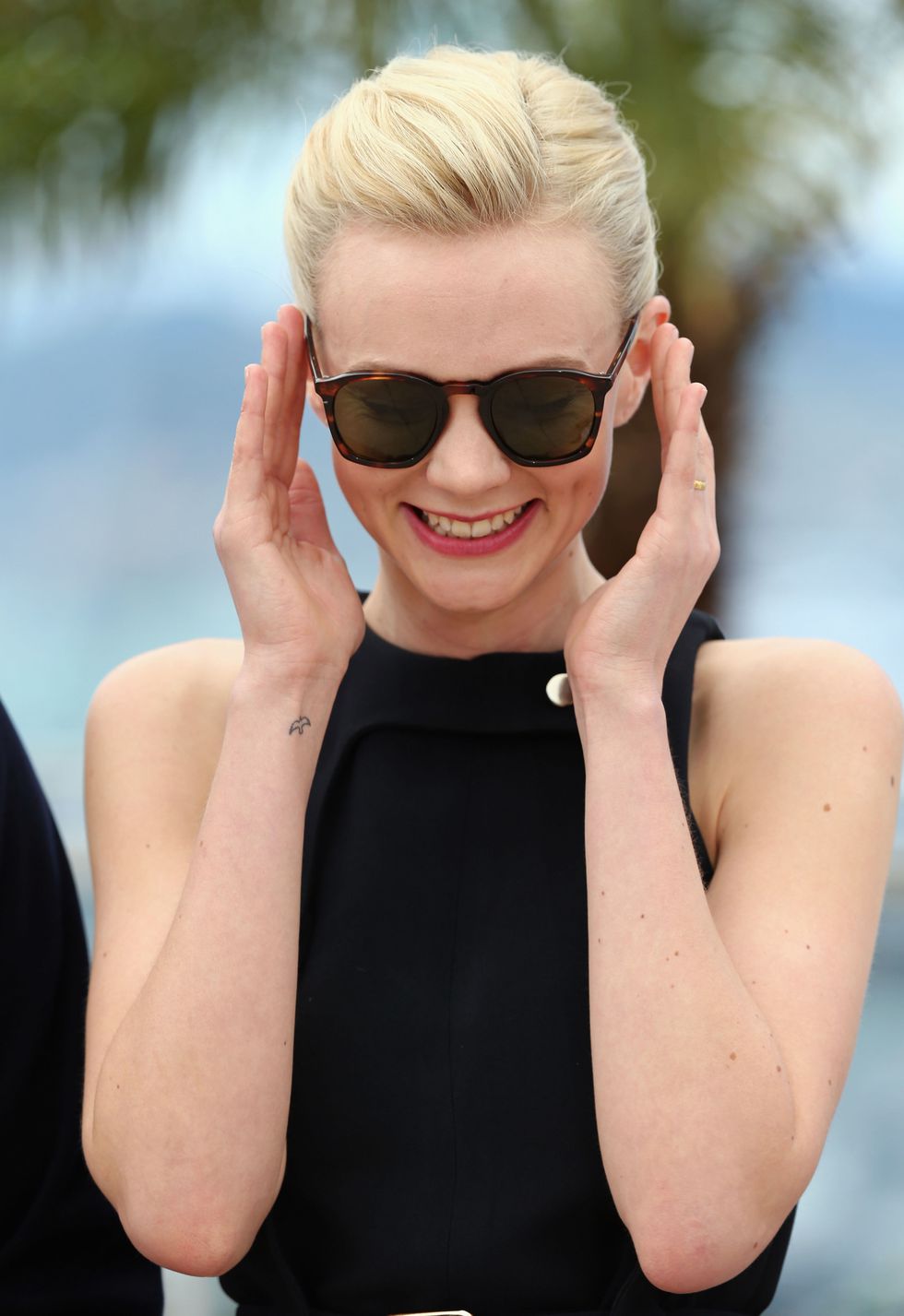 Carey Mulligan told Vulture that she believes the teeny tattoo of the seagull on her wrist helped her nab a role in the Steve McQueen flickShame. During the audition process, she mentioned that she was mulling over the idea of a seagull tattoo as a reminder of the character Nina, who she played in a stage performance of The Seagull.
She told him, "There's this brilliant thing Nina says in Act Four when she comes back and she's completely f*cked up—she's had a child with this writer and she's lost the baby and she's lived in abject poverty, and she comes back and she's fraught but she's got this clarity." McQueen was a big fan of the idea, and she ended up getting both the tattoo and the role.
21. Lily Collins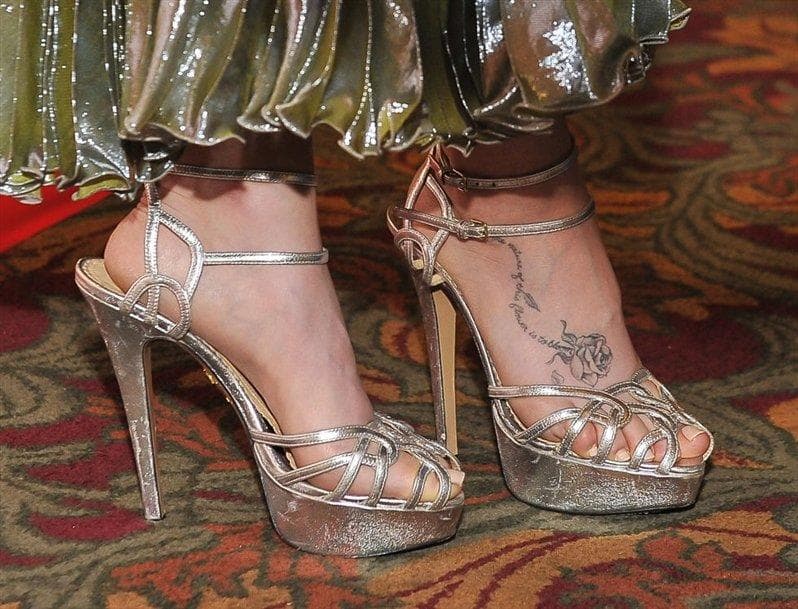 Lily Collins is all about the ethereal for her tattoo designs (she has a tattoo of a moonlit fairy under her left breast and an elegant back tattoo that reads "Love Always and Forever"), and the one on her foot is no exception. She told the Daily Mail UK, "The one on my foot is a rose with the words, 'The nature of this flower is to bloom.' There's a single petal falling off to symbolize that I may look delicate, but I'm as strong as a rose," she says. "I had it done after I finished shooting my film, Love, Rosie."
22. Megan Fox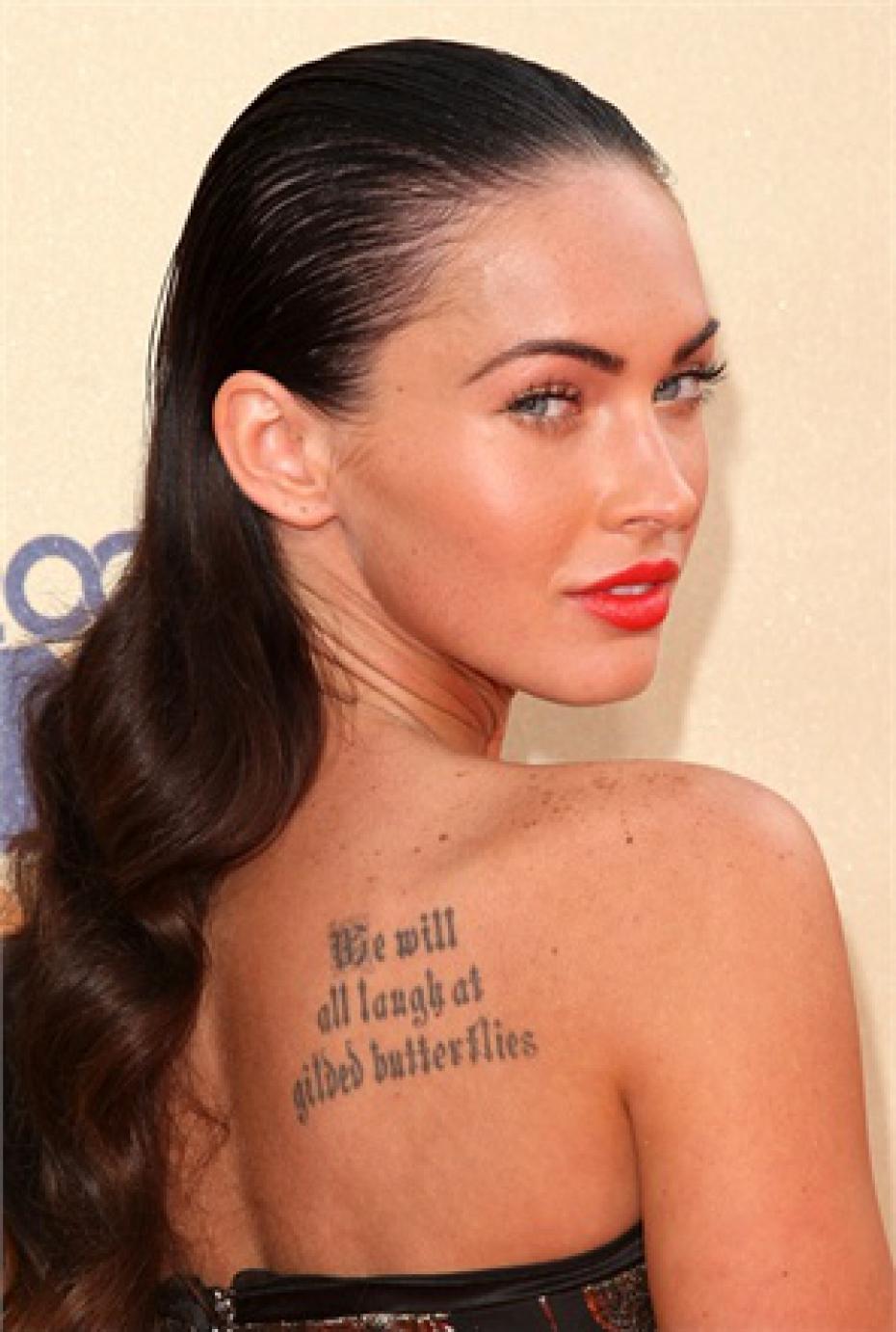 The Transformers star has been inked and de-inked a couple times before (she got rid of her Marilyn Monroe tattoo to avoid "attracting negative energy") but the most prominent is the script on her back that adapts a line from Shakespeare's King Lear. It reads, "We will all laugh at gilded butterflies" and she has been quoted saying that it's a reminder "to not get too caught up in Hollywood because people will end up laughing at you."
23. Jessica Alba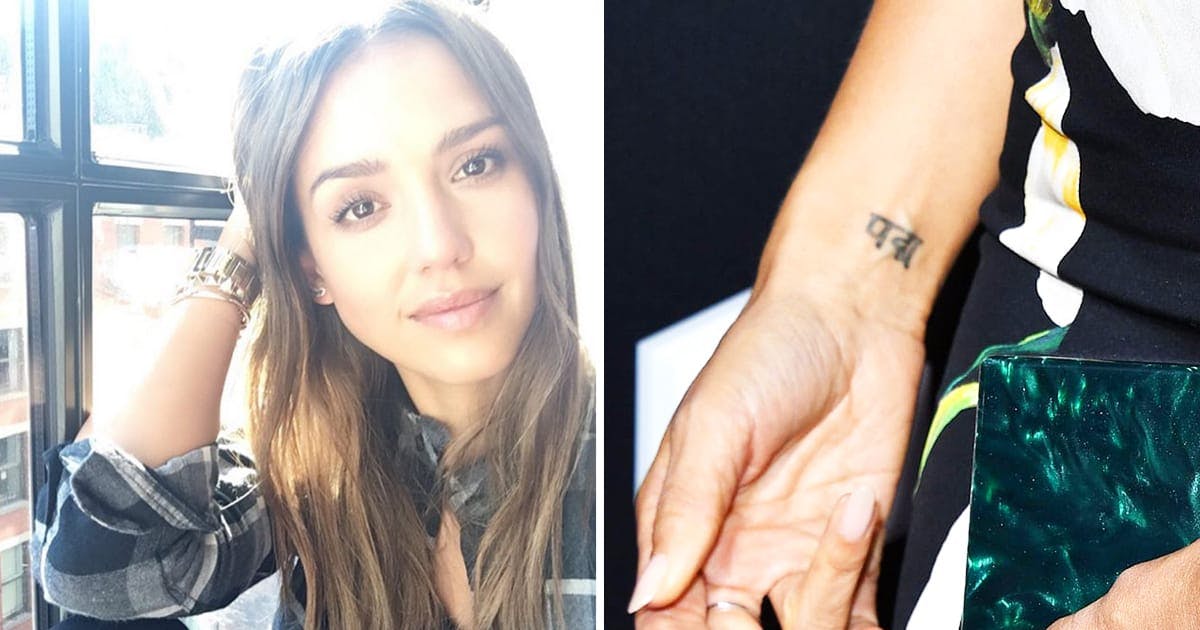 On The Late Show, Jessica Alba revealed to host Stephen Colbert she named her small wrist tattoo "My First Breakup." The Honest Company CEO said, "It's lotus in Sanskrit. It means the manifestation of spiritual beauty." Alba nonchalantly mentioned she got the ink after breaking up with a "famous actor"—who may or may not be NCIS star Michael Weatherly—and finding herself again.
24. Demi Lovato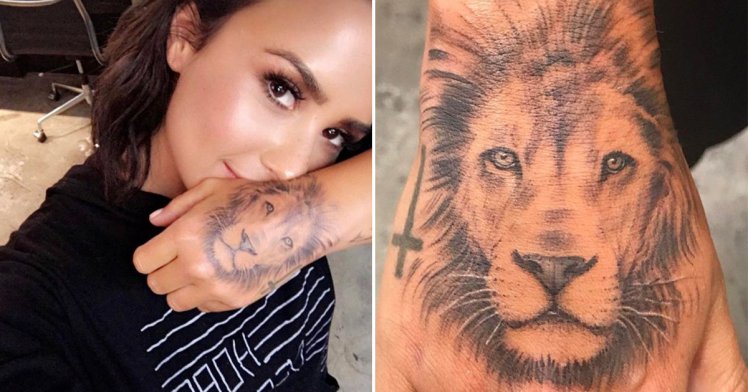 Demi continues to add ink to her ever-growing collection, this time sharing the news via Snapchat. The singer posted videos while under the needle and later revealed two large roses underneath an older tattoo reading "Stay". Her snapchat videos appeared to show her getting a back tattoo as well, but Demi has yet to show it off.
25 Selena Gomez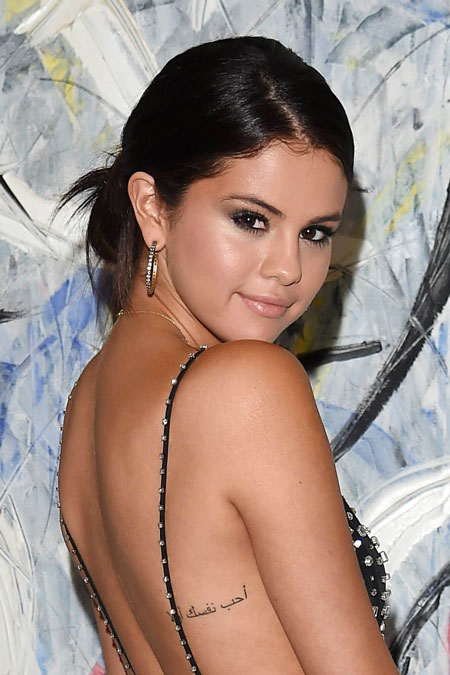 The songstress got one of her newest tattoos in Arabic, which roughly translates to "love yourself first." It's all in keeping with her frequent championing of female empowerment and self-love.