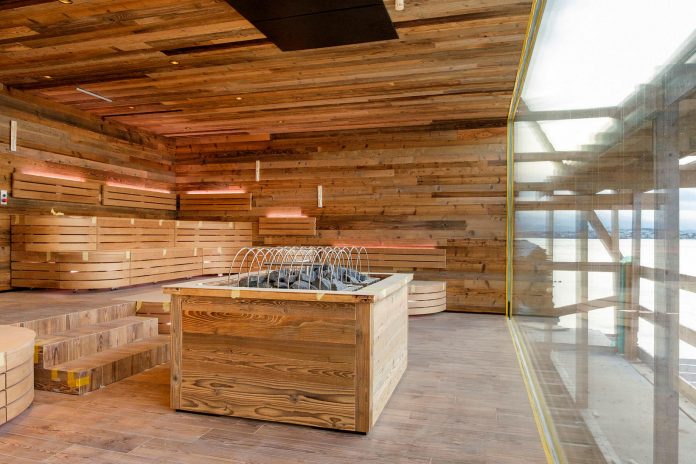 Sky Lagoon geothermal baths, under construction on Kársnes point in Kópavogur, in the capital area, will boast Iceland's largest sauna, Morgunblaðið reports. The sauna will have an ocean view – including a view of Bessastaðir – the president's residence – of the Reykjanes mountain range, and, when the visibility is good, of Snæfellsjökull glacier.
"Everything is in full swing and going great," states Dagný Pétursdóttir, CEO of Sky Lagoon. "The project is on schedule, and we plan to begin operation in the spring. The timing depends in fact on the global situation. We'll be ready. We hope for the best and prepare for the worst."
The project is reported to be among the largest ones in the Icelandic tourism industry in recent years. The estimated cost is roughly ISK 4 billion (USD 31.1 million; EUR 21.6 million).
Sky Lagoon is a cooperation between Nature Resort ehf., which is in charge of the construction, and the international travel experience company Pursuit, owned by Viad, which will operate the baths. Pursuit already operates the flight ride theater FlyOverIceland in Reykjavík.
The baths are designed to be ideal for relaxation, surrounded by Icelandic nature. A wall, made of rocks, has been raised around the baths, creating a frame around them.
"The birdlife around us is rich," Dagný remarks, "and occasionally, we'll see seals peeking at us. There is something incredibly relaxing and magical about sitting in here, watching the interplay of the ocean and the sky."
She points at a huge windowpane and remarks, "This is the largest windowpane ever installed in Iceland. It weighs 2.4 tons, and I must admit my heart beat very fast while it was being hauled over here and installed. But the outcome is magnificent."