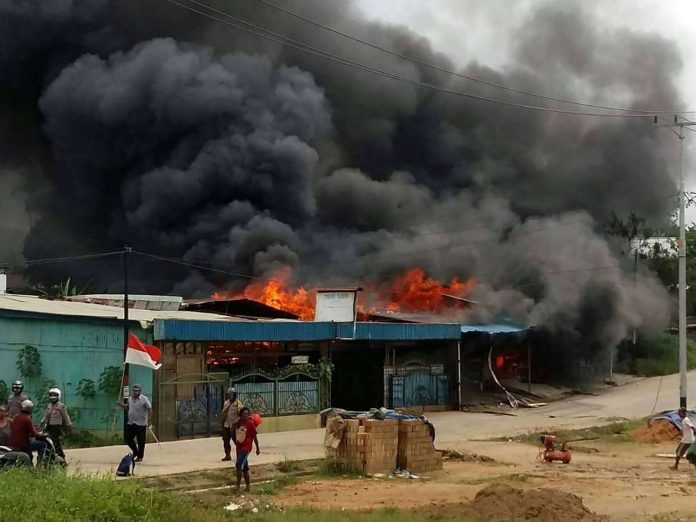 Indonesia has deployed more than 1,000 soldiers and blocked internet access in Papua where unrest has swelled over authorities' alleged mistreatment of students.
Thousands of protesters in the province and in neighbouring West Papua have taken to the streets, with some setting fire to a prison, government buildings and offices.
Jakarta deployed the soldiers in an attempt to stop the riots, which have been fuelled by claims of racial discrimination against Papuans.
The country's communications ministry said it had blocked access to the internet and to telecommunications data so protesters could not see "provocative messages" on social media.
"This is an effort to curb hoax and most importantly stop people from sharing provocative messages that can incite racial hatred," a ministry spokesperson said.
The unrest began after authorities detained a group of Papuan students in the city of Surabaya in East Java.
Police officers arrested the group in their dormitory last week, after accusing them of disrespecting the Indonesian flag during the country's Independence Day celebrations.
An activist said that officers fired tear gas into the dormitory before arresting 43 students.
Police officers are alleged to have used racial slurs during the operation, with one activist claiming they called the students "monkeys".
Unrest soon spread and thousands of Papuans took to the streets on Monday in the cities of Sorong, Manokwari and Jayapura.
Lukas Enembe, Papua's governor, said people were angry over "the extremely racist words used by East Java people, the police and military."
Protesters have since blocked roads, torched buildings and damaged an airport. Some reportedly carried signs calling for a "Free Papua."
Exiled West Papuan leader, Benny Wenda, said the arrests had "lit the bonfire of nearly 60 years of racism, discrimination and torture of the people of West Papua by Indonesia".
Around 258 inmates also escaped a prison after protesters set fire to the building.
"After burning the regional government's office facilities, [protesters] headed to the prison and threw rocks, provoking inmates," said a spokesman from the Law and Human Rights ministry.
Papua and West Papua are two provinces of Indonesia that were once Dutch colonies.
The Netherlands ended its colonial rule in the region in 1962.
Indonesia unilaterally took control of Papua and West Papua and formally incorporated the region in 1969.
The population of both provinces are ethnically and culturally distinct within Indonesian society.
A separatist movement calling for independence from Jakarta has simmered for decades in Papua.
There have been frequent complaints of rights abuses in the region, allegedly carried out by Indonesian security forces.