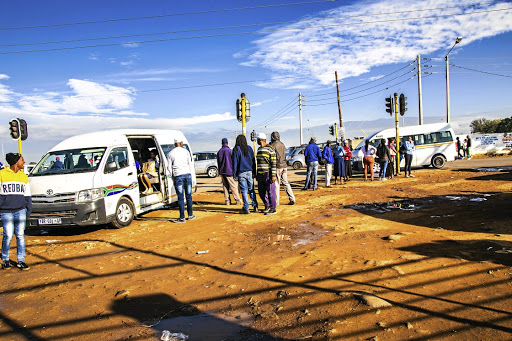 Millions will be on the job, but many will now be without one
Eight-million people return to work tomorrow as SA attempts to salvage a battered economy, but it will be against a massive surge in Covid-19 infections.
Others have no jobs to return to. The restrictions have dealt a blow to many, with economists predicting that about 100,000 companies may not survive.
Business rescue practitioners and liquidation lawyers told the Sunday Times they had been inundated with inquiries since the lockdown began in March and warned of closures and liquidations that could cost as many as 7-million people their jobs.
Also top of mind this week was how the millions of workers who rely on public transport will get to work safely.
During a briefing yesterday, transport minister Fikile Mbalula said the Passenger Rail Association of SA (Prasa) was not ready to start tomorrow. It would resume only in July, "in the interests of safety".
Minibus taxis will operate but can carry only 70% of capacity, and buses just 50%.
On Friday, labour federation Cosatu said the absence of a proper transport plan was the biggest problem.
"We listen to all role players in the transport sector, they are not convincing. Prasa carries 8-million a day. You are not going to reopen the economy with Prasa not working," said Cosatu's Sizwe Pamla.
Another fear is that taxis will not comply with capacity regulations.
"Who are the marshals that are going to make taxis comply when they leave the rank?" Pamla asked.
"There is no enforcement mechanism. It's almost like someone is praying that everybody will do what they said they will do."
Stephen Thomson, of Thomson-Wilks attorneys, said inquiries about business rescue had trebled since the lockdown began in late March.
"When the courts allow the flow of summonses and applications in the week, we have a few liquidation applications in the wings," he said.
"We also act for a lot of creditors who are poised to put in applications for liquidation."
Colin Strime of Fluxmans Attorneys said: "We have had a lot of queries and we are expecting a tsunami when things reopen.
"We have a constant range of questions from business owners who are obviously concerned, but denial is also a big factor for some of these directors. Many don't want to face the reality that they will have to go insolvent," he said.
Business rescue practitioner Kurt Knoop said he had seen a rise in companies reaching out for rescue.
"Some simply cannot be rescued; they are too far gone. Not because of their financial inability, it's the long-term knock on trading," he said.
Gym owner Tristan O'Brien has been forced to close five of his seven facilities, his 40 staff members facing unemployment.
"By the time I come back under level 1, I will be in the neighbourhood of R200,000 in arrears for rentals alone. There is no way that we will be able to survive with that kind of expense," he said.
"I have my hands tied behind my back and now I need to tell my staff that I'm sorry, this is a forced closure, there is nothing I can do."
George Nell, of Corporate Business Rescue, said while rent holidays had bought breathing space for cash-strapped firms, this would not last.
"Once the banks are pushed to their limits, they will exert pressure on landlords and then they will push the tenant.
"The shoe will begin to pinch in the months to come when debt has to be repaid," he said.
Ballito salon owner Shelley Stegen was in tears over the shuttering this week of the business she built over two decades. Ten of her employees will lose their jobs.
"It's heartbreaking when you realise that everything you have worked so hard for is gone in a flash and there's nothing we can do," she said.
Rune Ravnsborg, owner of technology firm Rebel Tech, said the lockdown had killed his 13-year-old company and the jobs of nine of its employees.
"We never envisioned that the lockdown would eliminate the need for e-commerce and when they announced that everything would be shut down for weeks, we knew we were in trouble," he said.
Debt review firms also report being overwhelmed by requests for help.
Benay Sager, COO of DebtBusters, said it had dealt with an 83% increase in inquiries compared with May last year. This followed an 86% increase in April compared with the year before.
"Payment holidays have given people a buffer. Between July and September, a lot of these holidays will be over, and the true impact will be felt," he said.
The Banking Association reports that more than 140,000 businesses have approached their banks for cash-flow relief or payment breaks on their debt. By May 23, it had helped 132,000 of these, providing R10.3bn in relief.
Martin Kingston, of Business for SA, said some sectors – including retail, mining and liquid fuel – were more ready for level 3 than others.
'It's truly terrifying': Hunger stalks SA's children during Covid-19 lockdown
"Undoubtedly there will be individual instances of noncompliance … The operational procedures may be cumbersome and difficult to begin with as firms get into the rhythm," he said.
"We believe it is important that the enforcement agencies have a common understanding of the regulations and how they should be applied. That has not been our experience to date, with many instances of inconsistent understanding of the regulations."
Lumkile Mondi, a senior lecturer at the Wits School of Business and Economics, said a drop in disposable income would take a long-term toll on companies that were still trading.
"As people return to work the outlook will be very grim. Unfortunately for many, the state has moved too late to reopen society," he said.
Political economist Daniel Silke said small businesses had "not received adequate protection from government".
"In SA, many businesses are being left to their own devices. The inability of the UIF to process TERS [temporary employer/employee relief scheme] payments in May is an example of this," he said.
While larger companies may be ready to reopen, small and medium-sized enterprises may not be able to comply with the government regulations.
Safety SA CEO Karl Campbell said: "Businesses that had sufficient capital to survive the lockdown will be more ready than those who are cash strapped. I will be happily surprised if all businesses will have sufficient PPE [personal protection equipment]."