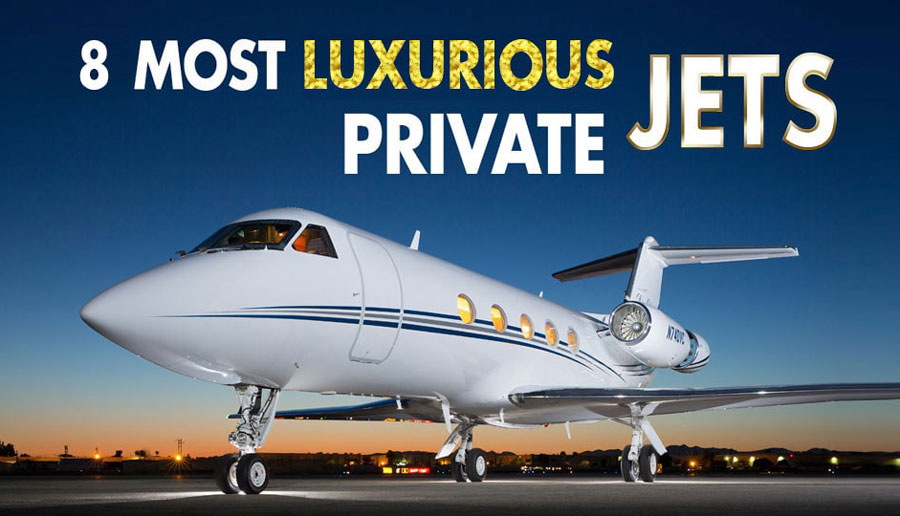 Private-jet makers like Bombardier, Gulfstream and Embraer are stepping to new levels of luxury, technology, and performance.
A few customers are loyal and preferred to convert commercial airliners from Boeing and Airbus for private usage.
Price these aircrafts ranges from tens of millions to hundreds of millions of dollars.
Nowadays, just a few privileged are taking luxury air travel with ultra modern executive jets from manufacturers such as Bombardier and Gulfstream. And there are others that decided to convert commercial airliners into opulent flying palaces.
In 21st century, traveling is very common and here at IntoPosts we selected the 8 most luxurious private aircraft in the world so you can be jealous, like we do.
Obviously, this list may change — after all, Elon Musk or Apple may surprise us all one day with an electric private jet soon.
1. Embraer Legacy 500
The most simple of our list is the Embraer Legacy 500. A midsize plane designed to operate short itineraries. With a price of "just" $20 million, it's also the most affordable of the eight planes.
The interiors are decorated with rich leather and custom wood veneer.
According to Embraer, the Legacy 500 has the roomiest cabin in its class and the only one that allows passengers to stand up without the need of a footwell running along the middle of the plane.
2. Gulfstream G500
For the price of $44 million, the G500 is not the most expensive Gulfstream private aircraft but it is the newest.
The Gulfstream G500 offers bespoke cabins with seating tailored to customers needs.
This plane includes high-speed internet to access digital channels or have any job done as fast as possible.
3. Gulfstream G650ER:
Gulfstream's best aircraft is at $66.5 million, the G650ER model. It reaches more than 7,500 miles, completing flights across the Pacific Ocean.

This plane is decorated with best leather quality, fine wood veneers, and stylish stonework.
Interestly, the entire custom cabin can be controlled using a smartphone app.
4. Bombardier Global 7000:
Seemingly to the aircraft G650ER, the Global 7000 is designed to be the ultimate long-distance. The private jet is valued $73 million.
The cabin can be set in many different ways, including a with full dining room…
The aircraft Global 7000 has even available a private bedroom, considering the plane can do more than 8,500-mile range, that means nonstop from New York to Sydney, Australia.
5. Embraer Lineage 1000E:
This airline was the first to convert their regional aircraft and they based on the popular Embraer E190.
A very spacious aircraft of $53 million, the Embraer Lineage 1000E can be configured with a master bedroom with shower.
Embraer's design has a truly style, glamour, and luxury touch.
6. Airbus ACJ319Neo:
The Airbus Corporate Jet, is the business version of the Airbus A319neo airliner.
The ACJ319neo costs $101.5 million without any interior fittings. The jet has a range of nearly 7,800 miles and can fly nonstop from Los Angeles to Geneva, Switzerland.
This is the prototype of new coming version.
7. Boeing 787-8 BBJ:
This aircraft is a state-of-the-art with a cost of $224 million. In 2016, China's HNA Group spent $100 million to turn the regular airliner to one private jet (Boeing Business Jet).
As this is the first Boeing Dreamliner private jet, the interior and its fittings has been designed from scratch.
The interior of the aircraft is 223 square meters, having a master bedroom with a California king bed, a walk-in closet …

… and a incredible bath with a double-size shower and heated marble floors.
8. Boeing 747-8 Intercontinental BBJ:
A two floor private jet and stunning as the Dreamliner may be.
The 747-8 BBJ costs $403 million without any type of customization work.
The interior has nearly 446 square meters of space. The airplane has a full office  and a stately dining room, which can be converted into a corporate boardroom.