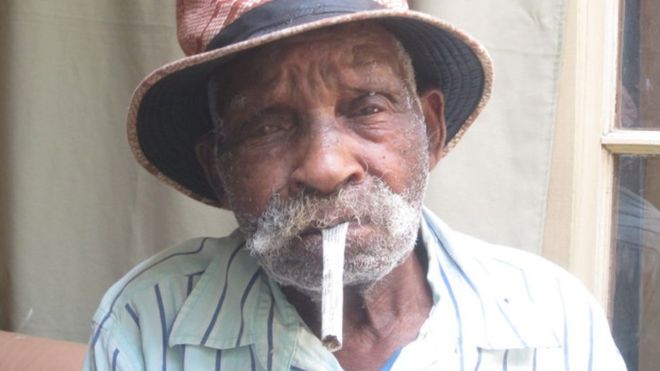 Fredie Blom spent most of his life as a labourer – on a farm and in the construction industry – in apartheid South Africa but he might soon be recognised as the world's oldest man, as the BBC's Mohammed Allie reports from Cape Town.
Although he gave up drinking many years ago, Fredie Blom is still a regular smoker.
"Every day I still smoke two to three 'pills'," – local slang for tobacco tightly rolled into a cigarette-length piece of newspaper. "I use my own tobacco because I don't smoke cigarettes.
"The urge to smoke is so strong. Sometimes I tell myself I'm going to stop but it's just me lying to myself. My chest chases me to have a puff and I'm then forced to make a 'pill'.
"I blame the devil for that because he's so strong," he says with mischievous grin.
Celebrity status
The first thing that strikes one when meeting the centenarian is how remarkably healthy and solid he still looks.
A tall, well-built man, he walks unaided, if understandably slowly, and besides being a touch hard of hearing, he has absolutely no ailments.
The former farm worker, who turned 114 on 8 May, is said to be the oldest person still alive although this is yet to be verified by the Guinness World of Records.
The title was last held by a Jamaican woman, Violet Moss-Brown, until 15 September 2017 when she died at the age of 117.
Guinness World of Records says it is still consulting genealogists to confirm the next holders of the "world's oldest man and woman" titles.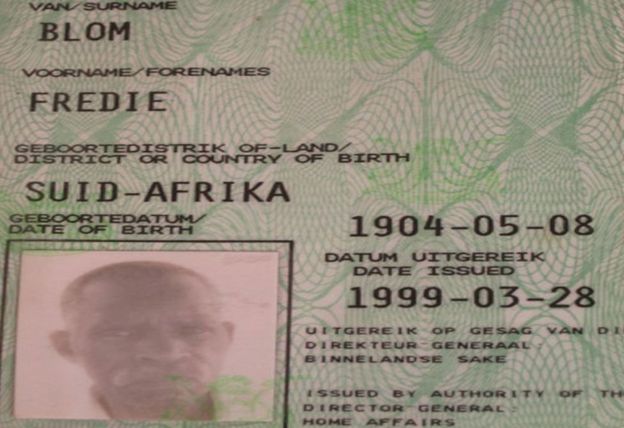 Mr Blom, who sports a slightly unkempt handlebar moustache and grey stubble beard, doesn't have any special secret for his longevity.
"There's only one thing – it's the man above [God]. He's got all the power. I have nothing. I can drop over any time but He holds me," is his response when I ask him what keeps him going.
"I feel very healthy, I'm good. My heart is strong but it's only my legs that are giving in – I can't walk the way I used to," he says, speaking in Afrikaans with a loud and clear voice.
He has inevitably acquired a celebrity status that has seen a constant stream of people ranging from locals to provincial government ministers coming to visit him in his modest home in Cape Town.
He said it's a great feeling to know that people care. For his birthday, a local supermarket and the provincial department of social development presented him with big birthday cakes.
Worked into his 80s
Janetta, Mr Blom's wife of 48 years who is 29 years his junior, says her husband has been remarkably healthy and has only been to hospital once – many years ago when he had a problem with one of his knees.
She reveals that many people initially doubted her husband's age.
"There were questions about it when he applied for his identity document several years ago, but his niece went to East London to get his birth certificate which provided the proof that was needed."
Sihle Ngobese, spokesperson of the West Cape Dept of Social Development, told me that the fact that the government had issued Mr Blom with an identity document that records his date of birth as 8 May 1904 is proof enough for them.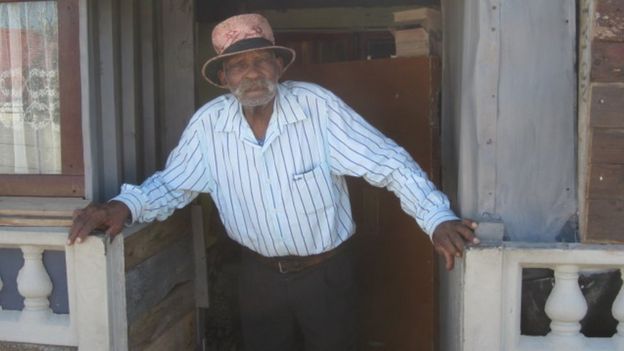 It was at an early age that Mr Blom left his birthplace of Adelaide, a small rural town in the Eastern Cape, to move to the bright lights of Cape Town. Because he didn't attend school, he is unable to read and write.
Instead his eyes twinkle when recalling one of his favourite childhood pastimes.
"When I got up in the morning I loved to go out and look at the world. I would often take [a] catapult and shoot the little birds – I felt proud when I looked at my belt and it was lined with the birds that I had shot."
His first job was as a farm labourer before moving to a company that installed pre-cast concrete walls known locally as vibracrete.
"We went all over Cape Town to install walls. I worked there for a long time until my retirement when I was already into my 80s," he says.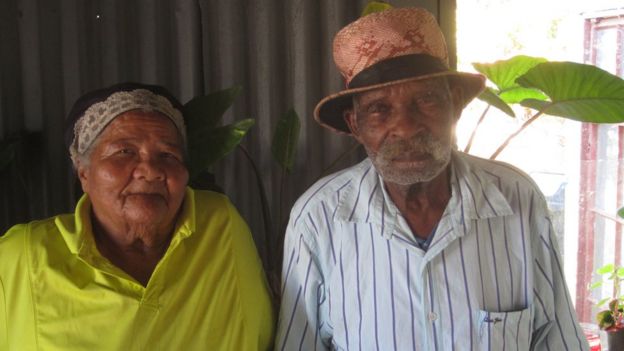 Living in a gang-infested, crime-ridden area like Delft, it's not hard to see why Mr Blom believes the prevalence of crime is the biggest change he's observed in his lifetime.
"Life was much more peaceful. Those were good times. There were no murders and robberies. Nobody got hurt, there was nothing of the sort.
"You could lie on your bed all day and when you woke up, everything – all your possessions – would still be there. Now it's all changed."
As for politics and the change from the days when South Africa was under white minority rule, Mr Blom is completely oblivious. "I worked on the farm – there was no time for anything else but to do your work. We only heard fleetingly about politics."
This admission may seem surprising but it is actually a common view among farm workers and labourers. Many of them, like Mr Blom, were illiterate, and lived a very secluded life.
Although black workers lived and toiled under harsh conditions on the almost entirely white-owned farms, they were generally prevented from mobilising, let alone joining trade unions or political groups.
'Nonsense TV'
His wife told me that he doesn't eat anything special. He likes to have meat for every meal but also eats a lot of vegetables.
Mr Blom is still strong enough to wash and dress himself although, according to his wife, he struggles to put on his shoes.
He also sometimes needs the assistance of his grandson to shave.
For someone who normally started his day at 4.30am in his working years, Mr Blom now rises much later and doesn't do much around the house.
"I can't do anything – I can't even get on a ladder any longer. I just sit around. I don't have time for the nonsense that's on TV."
He would rather sit outside his house and roll up another piece of newspaper and give in, once again, to the devil's temptation.